Technology Transfer Process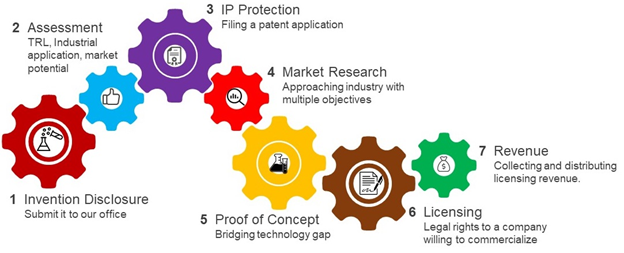 One of the focus of Saudi Vision 2030 is innovation in advanced technologies and entrepreneurship for a thriving economy. KFUPM strives to support Kingdom's vision for a knowledge-based economy. In this regard, we aim to license inventions owned by KFUPM, which have market potential, to either established companies or new startups, thus leading to economic impact and rise in entrepreneurial success.
KFUPM follows a process for technology licensing which is in-line with most successful university technology transfer offices worldwide:
Invention Disclosure: If you are a KFUPM faculty / researcher or student who has developed an invention using university fund and/resources, as per KFUPM's IP Policy, you are required to submit your invention disclosure to our office as soon as you complete your research and before you disclose in public domain (either in thesis dissertation or conference or journal publication or any type of public presentations or disclosure).
Preliminary Assessment: During this stage, an experienced IP Management Executives from our office shall review the invention with the objective to determine:

Technology Readiness Level (TRL): industry is interested in proved concepts; so any lab experiments, simulations, prototypes would support your submission.
possible industrial application(s) of the invention (based on discussion with you as an inventor and desktop search)
possible market potential (based on clarity of industrial problem being solved, competing advantages over technologies existing in market, any proofs to support the claimed advantages etc.)

IP Protection: KFUPM obtains exclusive legal protection (Patent) for the invention as follows:

If an invention fulfills the condition 2.2. above and not 2.1. (is only at the conceptual stage) may be processed for a Provisional patent application (allowing the inventor some time to prove his invented concept)
An invention which fulfills both the conditions 2.1 and 2.2. above shall be processed for a utility Non-Provisional patent application

Market Research: The inventions which successfully pass Preliminary Assessment and have market potential would only reach this stage. With the assistance of the inventor, the IP Management Executive would consider investigating potential industrial applications, competing technologies or products in market, potential barriers to enter into market, market size, technology development or Proof of Concept (PoC) needs. The assessment may involve some or all the following methods: interview with inventors, using external consultants, contacting industry to receive their feedback and understand their needs, patent landscaping, and using market research databases.
This assessment is done to fulfill one or more of the following objectives:
For technology, identify the possible direction for inventor's future research (e.g. if present invention has limited commercial value and/or interest for the industry, directions for future research is identified as per needs of the industry) or development needs (e.g. if invention has attracted any interest of the industry, however, there are needs to prove the concept or develop it further such as scale-up or overcoming its present limitations against existing commercial technologies)
For Licensing: identifying potential companies who are interested and capable to take the technology to market
Industry Partnership: identifying companies who are interested and capable to collaborate with KFUPM for PoC / development / scale up of the assessed invention or new research in the technical areas of company's interest
Proof of Concept (PoC): If there is a need to further prove the potential invention then either the KFUPM's PoC grant or Dhahran Techno Valley Company's Technology Development Fund or industry collaboration (if available) or any other possible resource shall be explored at this stage.
Licensing: Upon identifying a potential licensee (either to an established company or a startup), discussions are made with the licensee to review their business plan and capacity to commercialize the technology. After successful negotiations a license or option agreement is signed with the licensee (which would include milestones and payment terms).
Revenue: In addition to monitoring the progress of commercialization by licensee (as per the license agreement), our office shall collect the agreed payments from the licensee. As per KFUPM's IP Policy, the applicable net license revenue shall be shared with the inventors.
For more details contact: ip-license@kfupm.edu.sa